Hi everyone! Did you know that the Okutama and Ome area has a number of traditional Japanese sweet shops selling manju that have been loved for centuries?
We cycled a course that would visit a few of them and we can see some interesting sites on the way! So we will call this the:
Eating manju tour!!!
Hey, I'm Selina, an American staff member who loves manju. I'll introduce you to a 20km course that takes about 4 to 5 hours to visit 6 "delicious spots". The route is simple and easy to follow as it runs along the Ome Line from Okutama to Ome.
Do you know what manju or daifuku are?
If you have never heard of them, they are steamed buns with azuki bean paste inside. Manju have a sponge cake like outside, whereas daifuku has an outside made of mochi (pounded rice cake).
So this route is recommended for:
People who enjoy both cycling and visiting stores.
Those who like sweets.
People who like to ride along back roads in hidden places.
People who want to ride around the retro town of Ome.
Leisurely stroll
This is a fun way to experience food and culture by riding a bicycle, as if you were taking an easy stroll down the valley.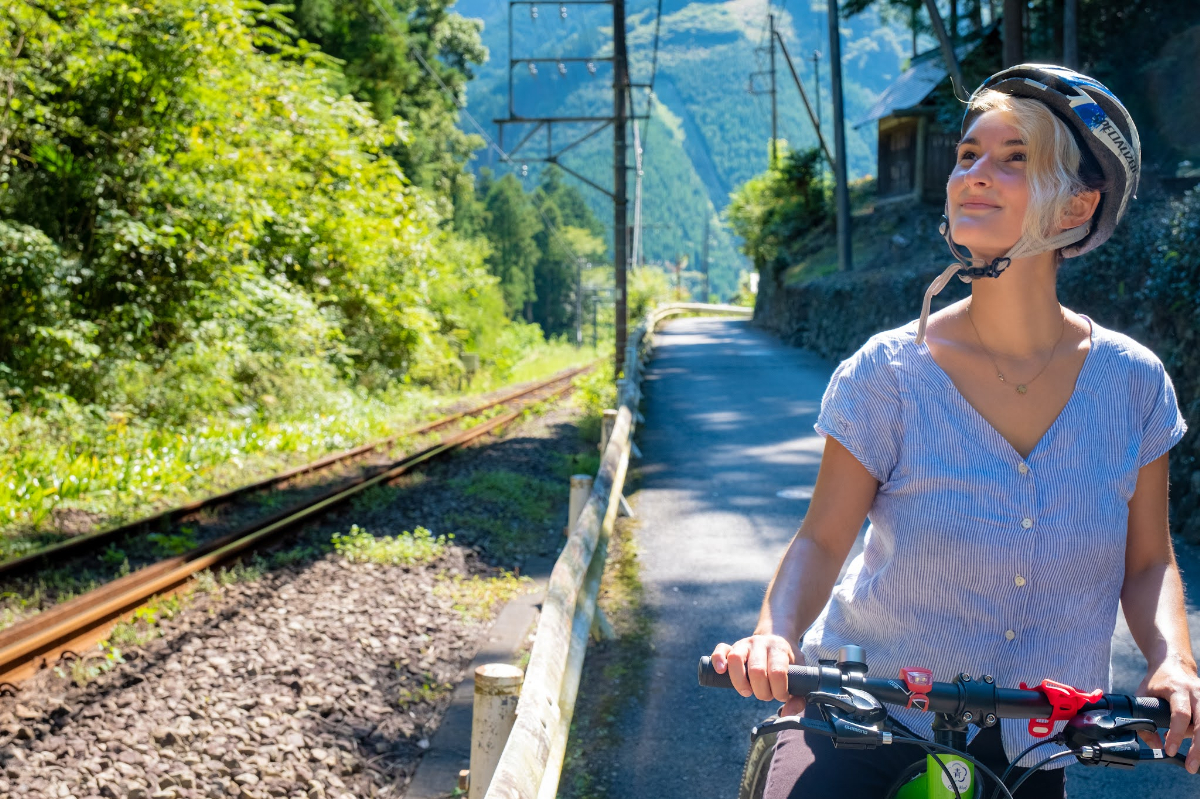 12:00 Start at Trekkling (0km)
0km (←shows the distance from the starting point Trekking)
Hey folks, Selena here, time to rent the bike from the start point at Trekkling.
Aaannd let's GO!!!!
12:15 Shiromaru Dam (3.5km)
First, we arrived at the familiar Shiromaru Dam. This is the view from the observatory.
It was a clear day, so the emerald green water looks striking!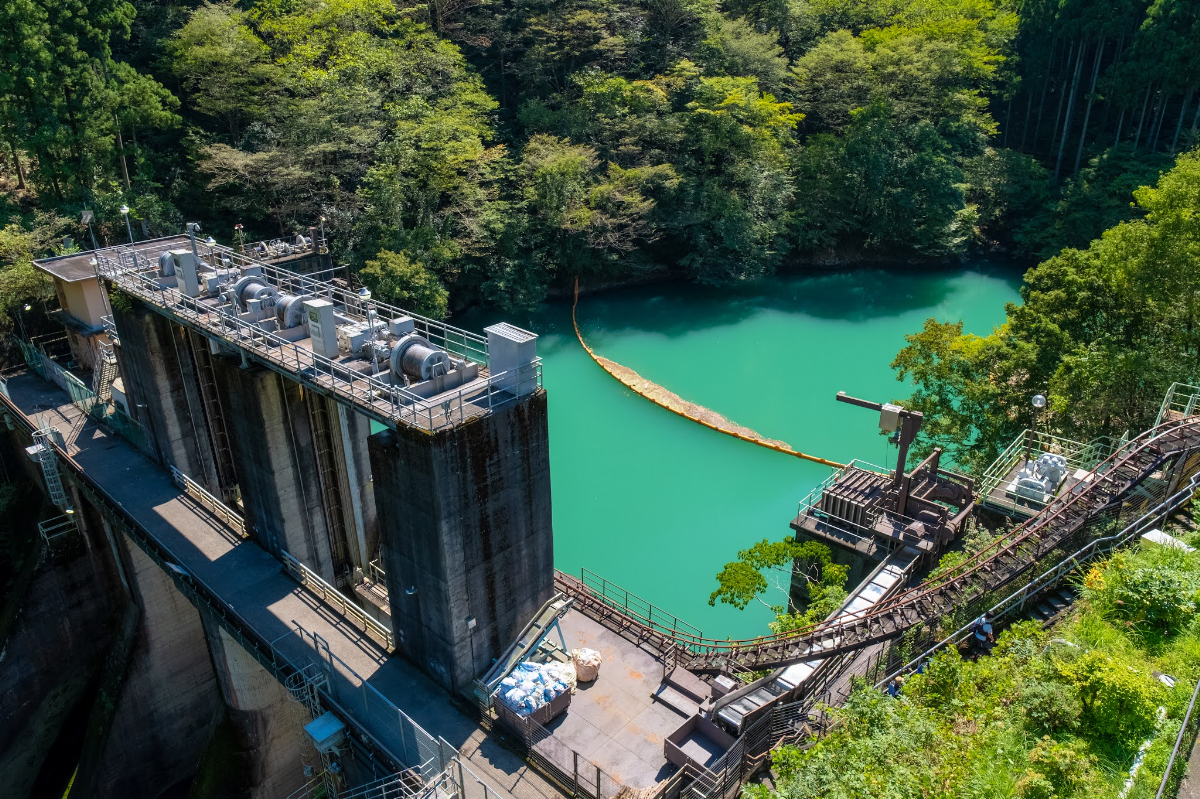 12:15 Shiromaru Dam fishway (3.5km)
We also went inside the dam. Going down the spiral staircase, we could see the fishway up close! The fishway, as the name implies, is a path / ladder for fish to help them climb from below the dam into the lake and further upstream.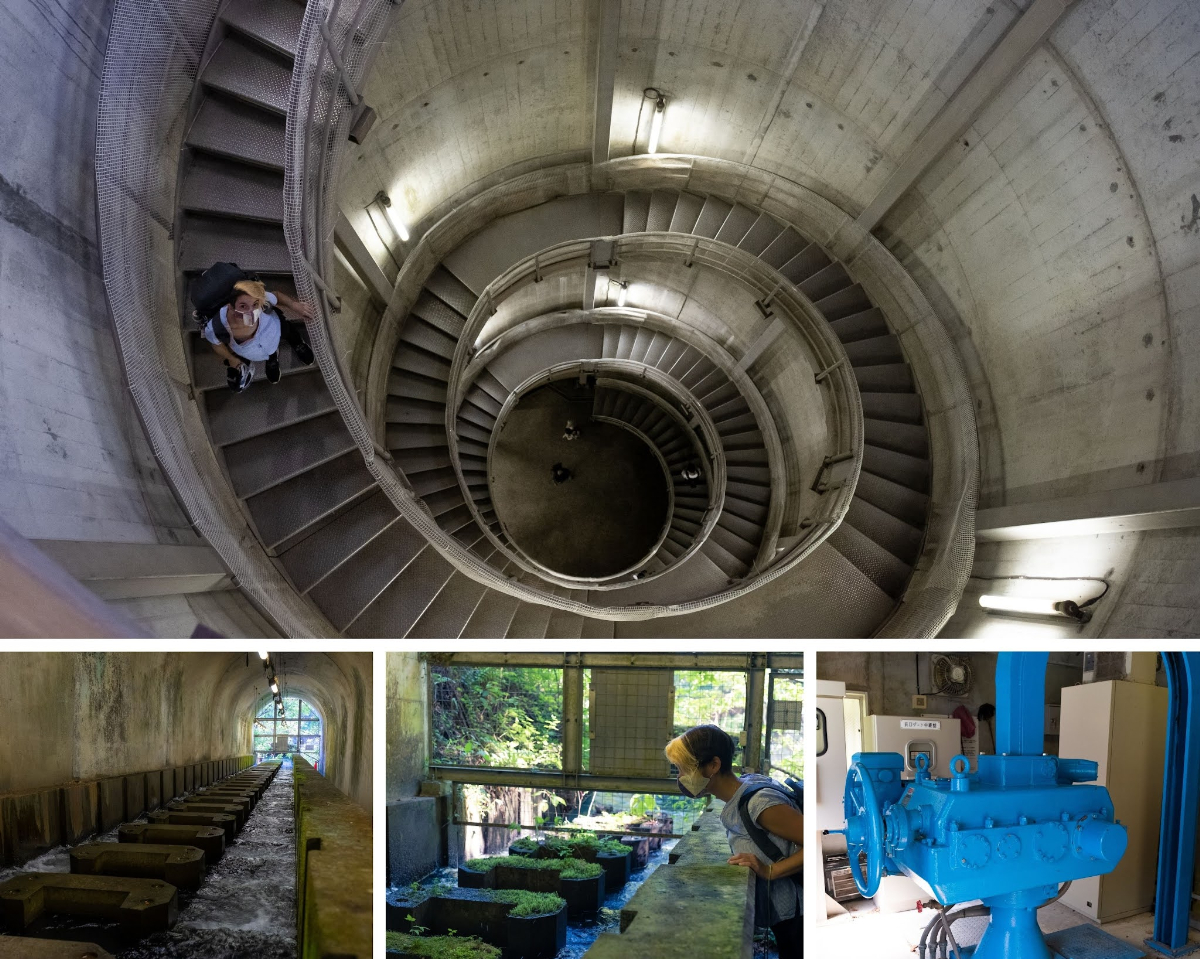 13:00 Kama-no-Mizu (spring water) (6.5km)
Near Kori Station, we found "Kama-no-Mizu", one of the 57 best springs in Tokyo!
People in the neighborhood use this for fresh spring water.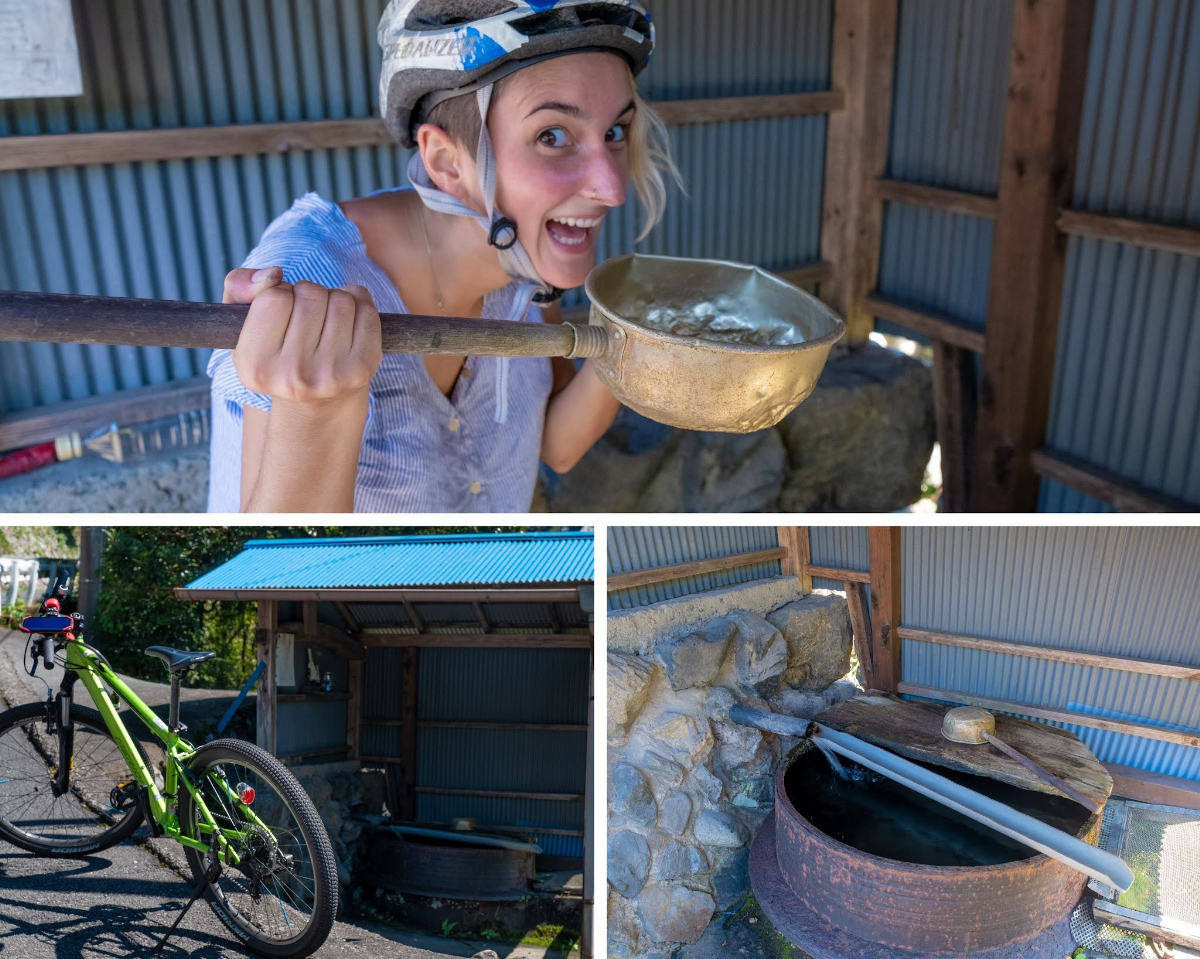 13:10 Komido (6.8km)
Komido is our first confectionery shop on the way, also near Kori Station. It has been in business for over 70 years, and is one of the best confectionaries in Okutama.
The beautiful packaging makes it a great souvenir! I think I bought too many! hehe
What I bought at Komido:
Hanakaido Furusato (a type of cookie)
Kibimochi Daifuku (This daifuku's mochi is made from millet)
Donuts with azuki white bean inside!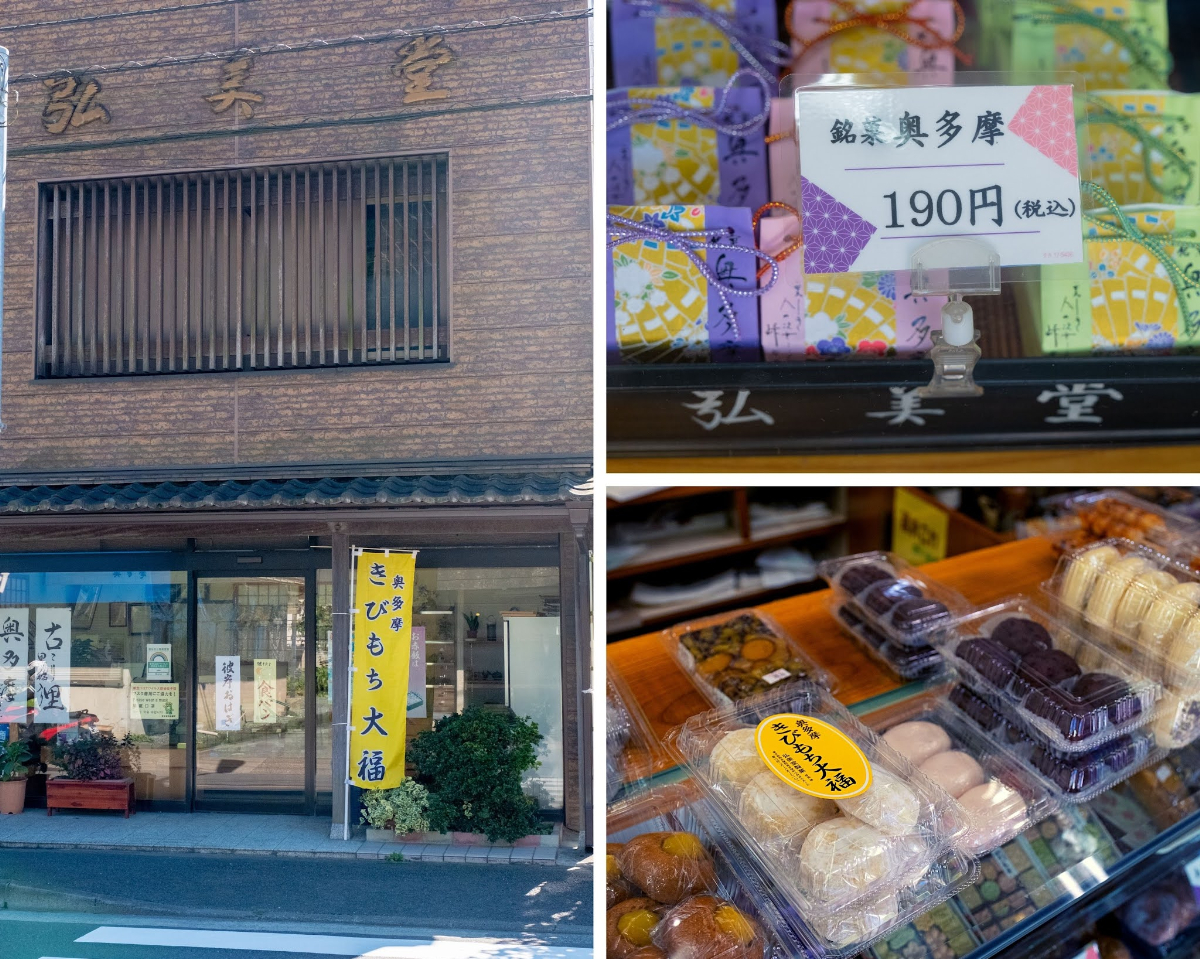 13:30 Back road with a view of the Okutama Big Bridge (8.3km)
We cycled to the area around Kawai Station. Making our way along the back roads you get a good view of Okutama Big Bridge and the mountains of Okutama.
We took a short break to eat the sweets we just bought at Komido. These are even better when eaten whilst looking at the beautiful scenery! I should have brought some green tea with me…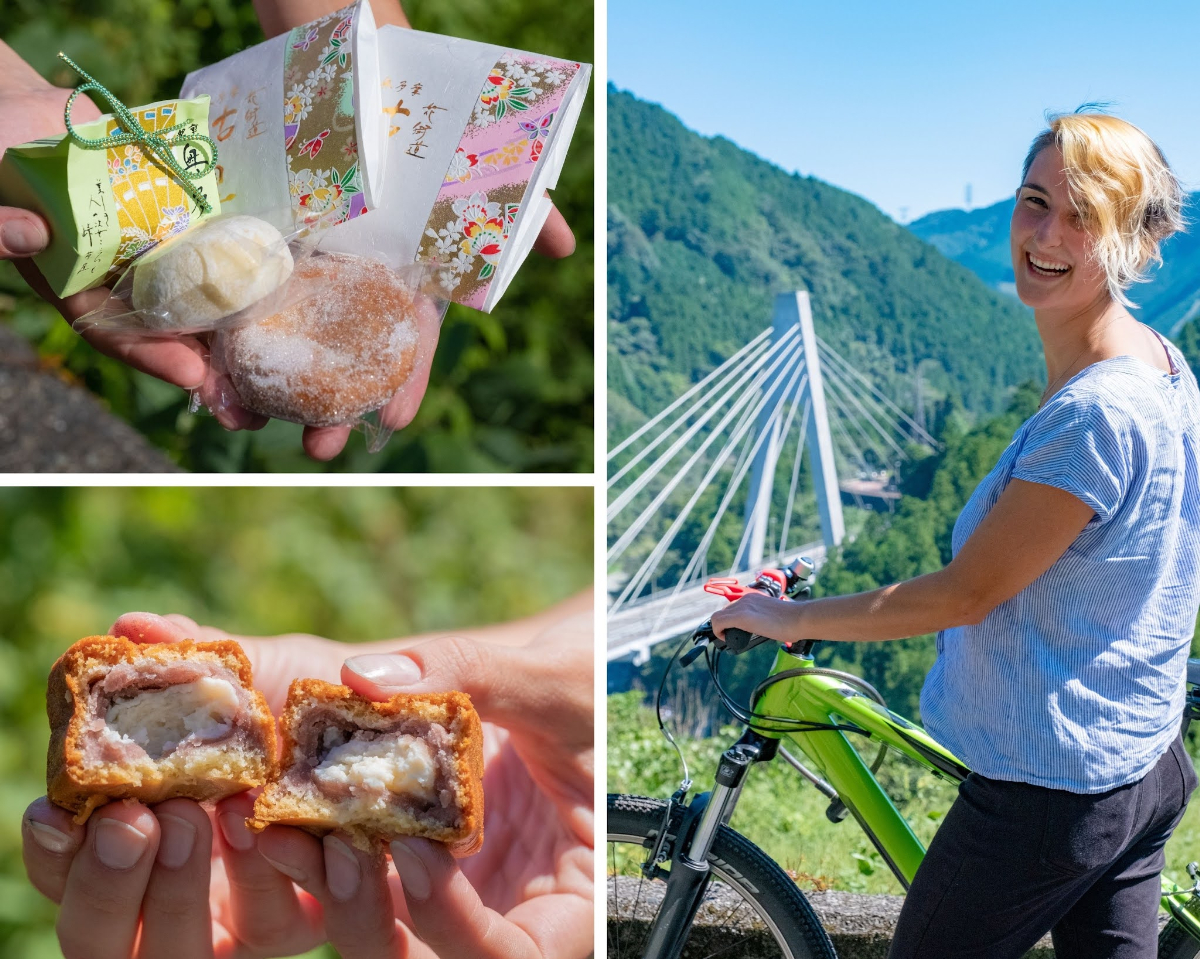 14:00 Mitake Bridge (11.3km)
We have reached Mitake Bridge, with a great view along the Mitake gorge. Listening to the river flowing through the narrow gorge is soothing.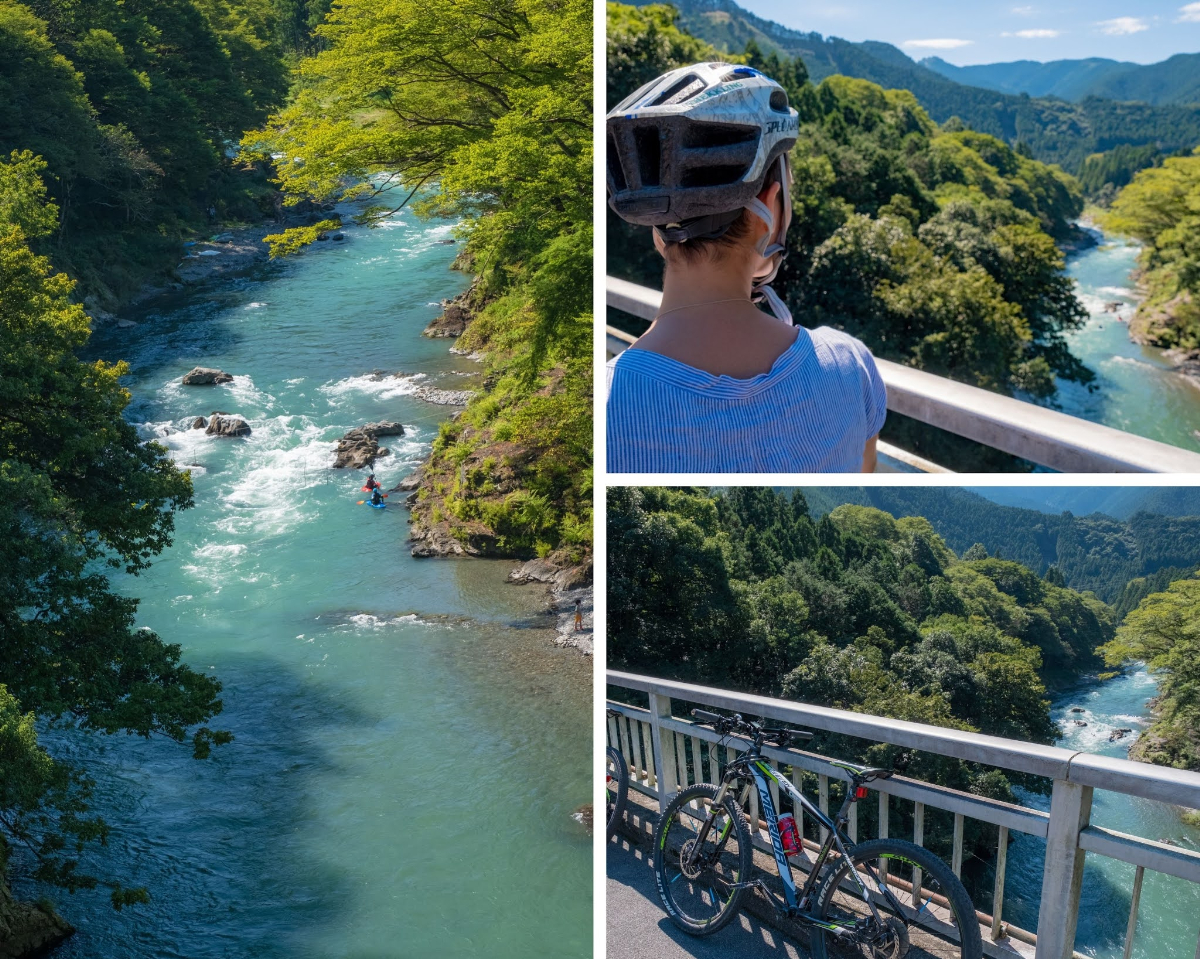 14:05 The back roads of Mitake (11.5km)
The back road between Mitake and Sawai stations runs along the railroad tracks. There's something nice about a single lane railroad track, isn't there? A great place to take photos.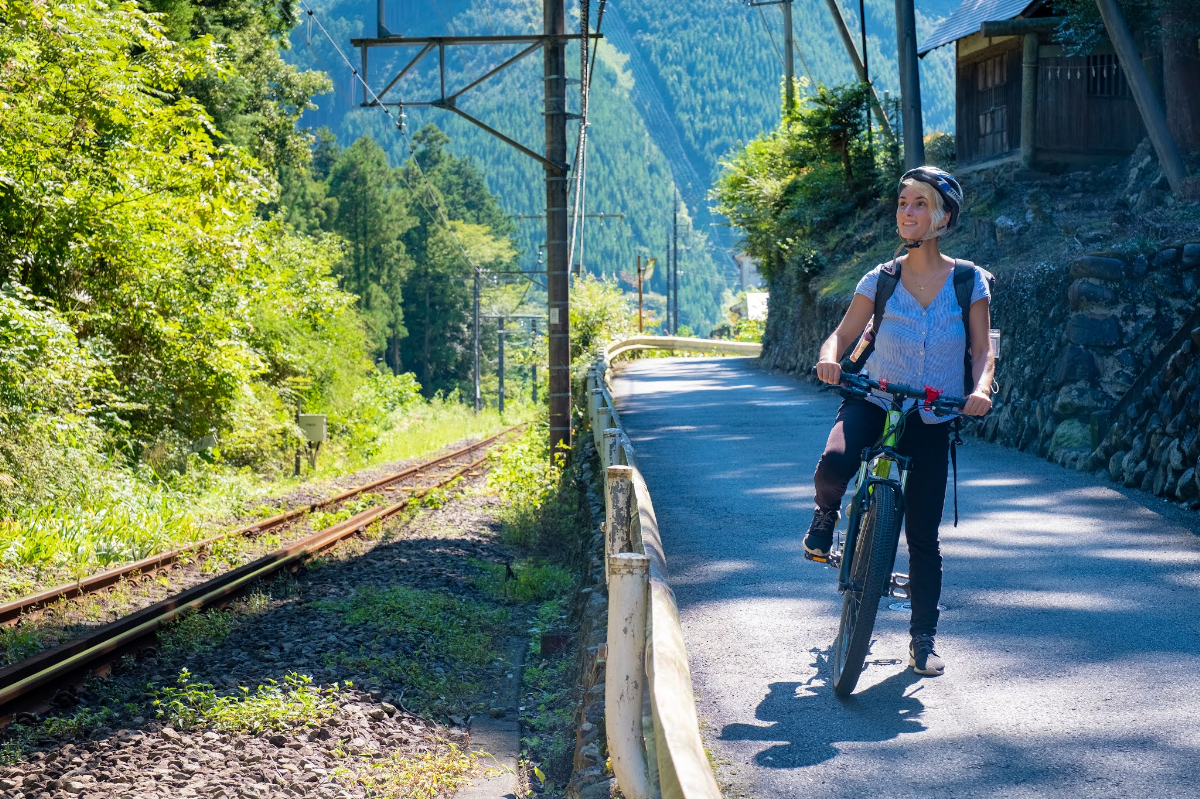 14:15 Seiryu Sawanoi Garden (12.5km)
We arrived at Sawanoi Garden near Sawai Station.
It is a beautiful riverside garden run by Ozawa Sake Brewery, where you can buy drinks, snacks, and souvenirs at the store. Of course, no drinking allowed while cycling!
The manju and pudding I was looking for were both sold out…. Instead, I bought "Sake no Hana Waffle", which was a hit! The flavor of sake lees (leftovers from sake production) is exquisite and I love it! I'm glad I made such an unexpected discovery.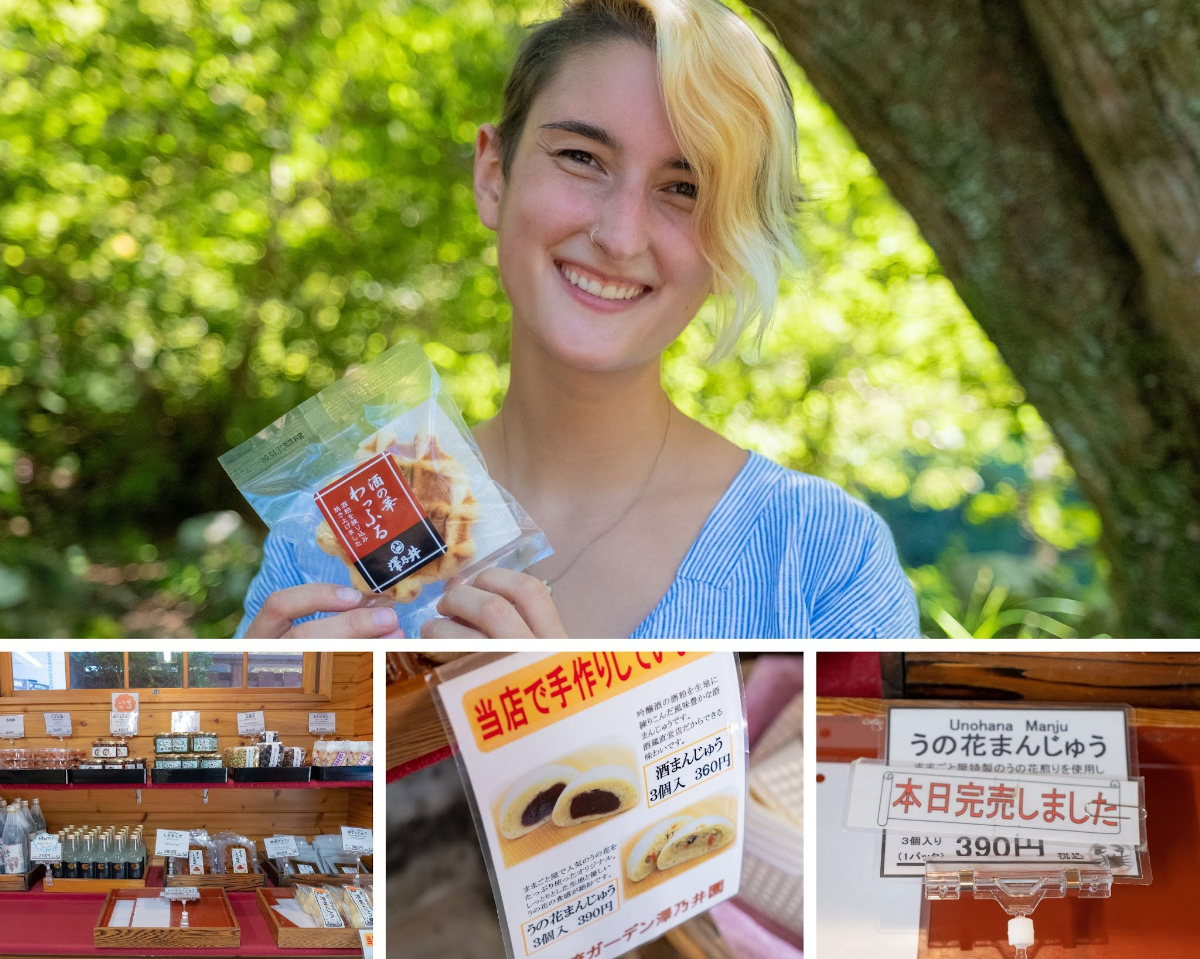 14:30 Back roads around Ikusabata (13.5km)
It's really nice to run through the trees in the clear weather.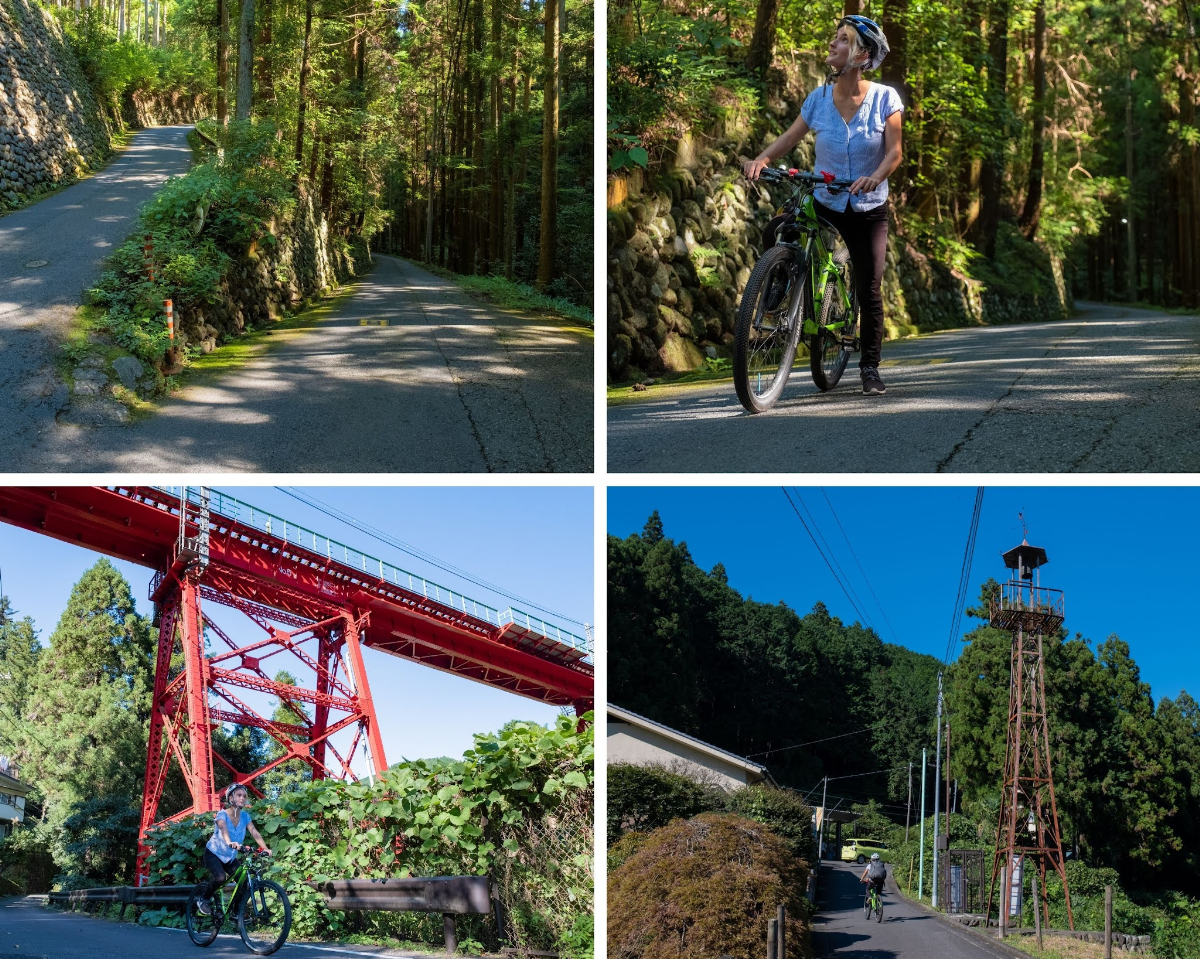 14:45 Kaizen temple(15km)
Let's stop by a temple for a minute!
This is Kaizen Temple.
You can feel the solemn atmosphere and the prestige of the temple. The beautiful higanbana flowers were in full bloom. You can also enjoy weeping cherry blossoms in spring.
An interesting story about this temple is that it was originally called 'Fukuzen temple'.
In the Edo period, they received a stipend of 15 koku (1 koku is the production yeild of 150 kilograms of rice) from the ruling Edo Shogunate incorrectly titled 'Kaizen temple', since it was too much to ask them to correct the error, to save face they changed the name.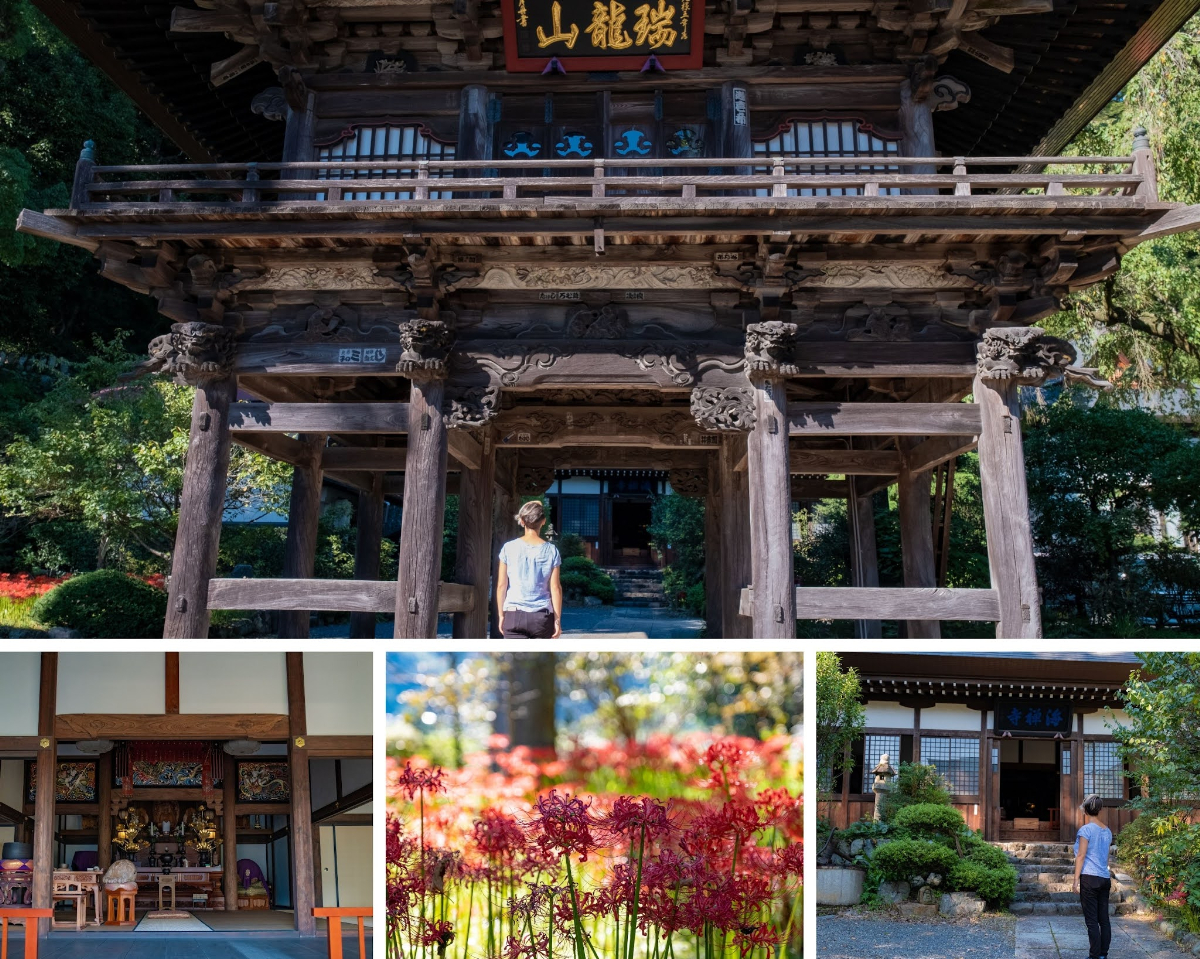 15:05 Heso-manju (15.5km)
We're near Hinatawada Station now!
This is "Heso Manju" where you can eat freshly steamed manju. It's great to eat it while it's still hot.
This is a stable manju that azuki bean paste connoisseurs will love, not too sweet. I can eat at least three of them!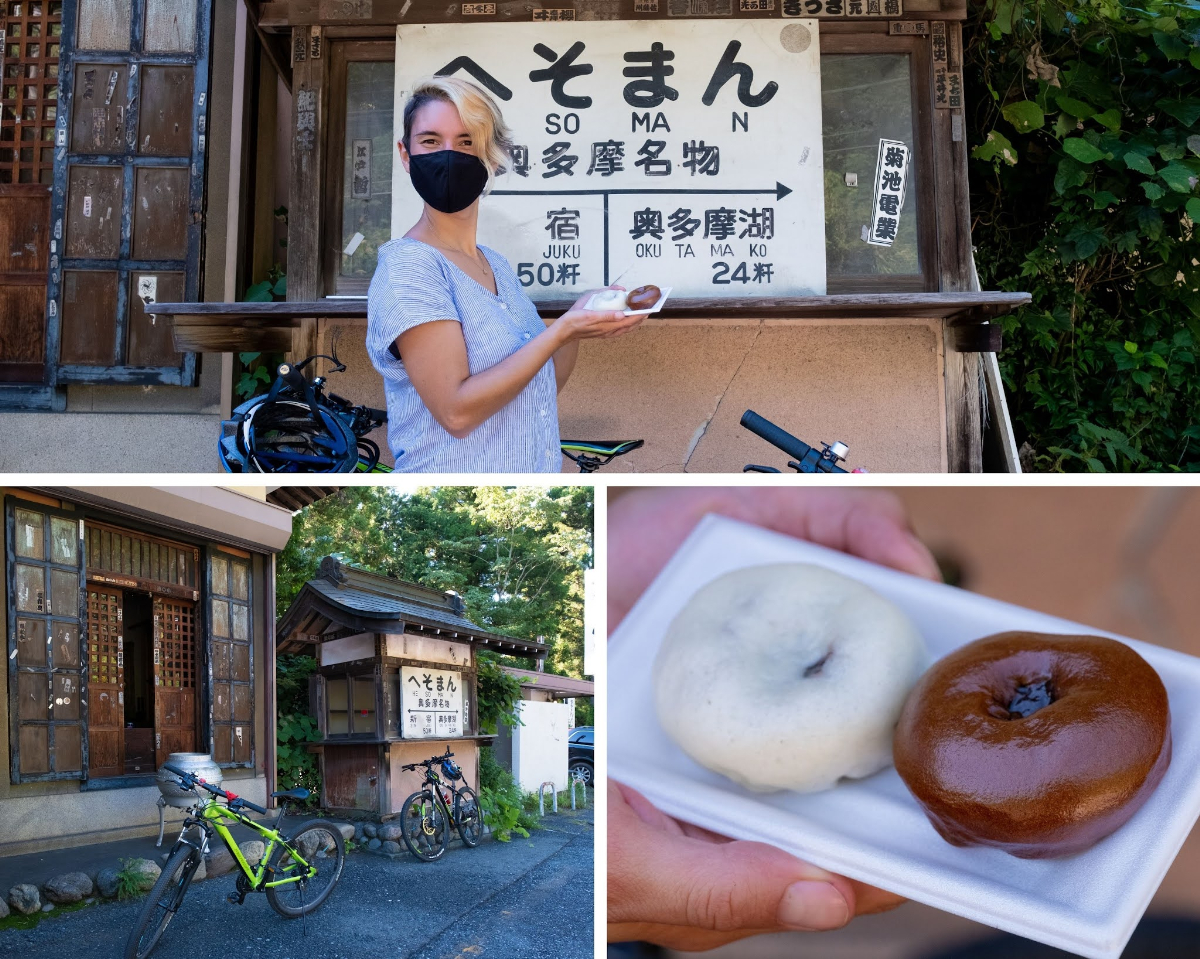 15:20 Kobai-en Japanese sweets cafe (15.5km)
We also took a rest at the sweet shop "Kobai-en" in Hinatawada.
Red plum manju, plum jelly, plum sherbet… As you'd expect from an area famous for its plums, they have a great selection. Plum lovers can't get enough! I heard that some people buy everything in the case, as if there are many persistent fans…
This time I ordered the plum syrup shaved ice. Delicious, with just the right balance of ume flavor, sweetness and tartness!
It was the perfect reward for my heated body from the bike ride.
Warm tea was also served with it, so my head didn't ache.
The photographer ordered the Ao-ume Kuzukiri (starch noodles). He said the sweet and sour plum went perfectly with the kuzukiri.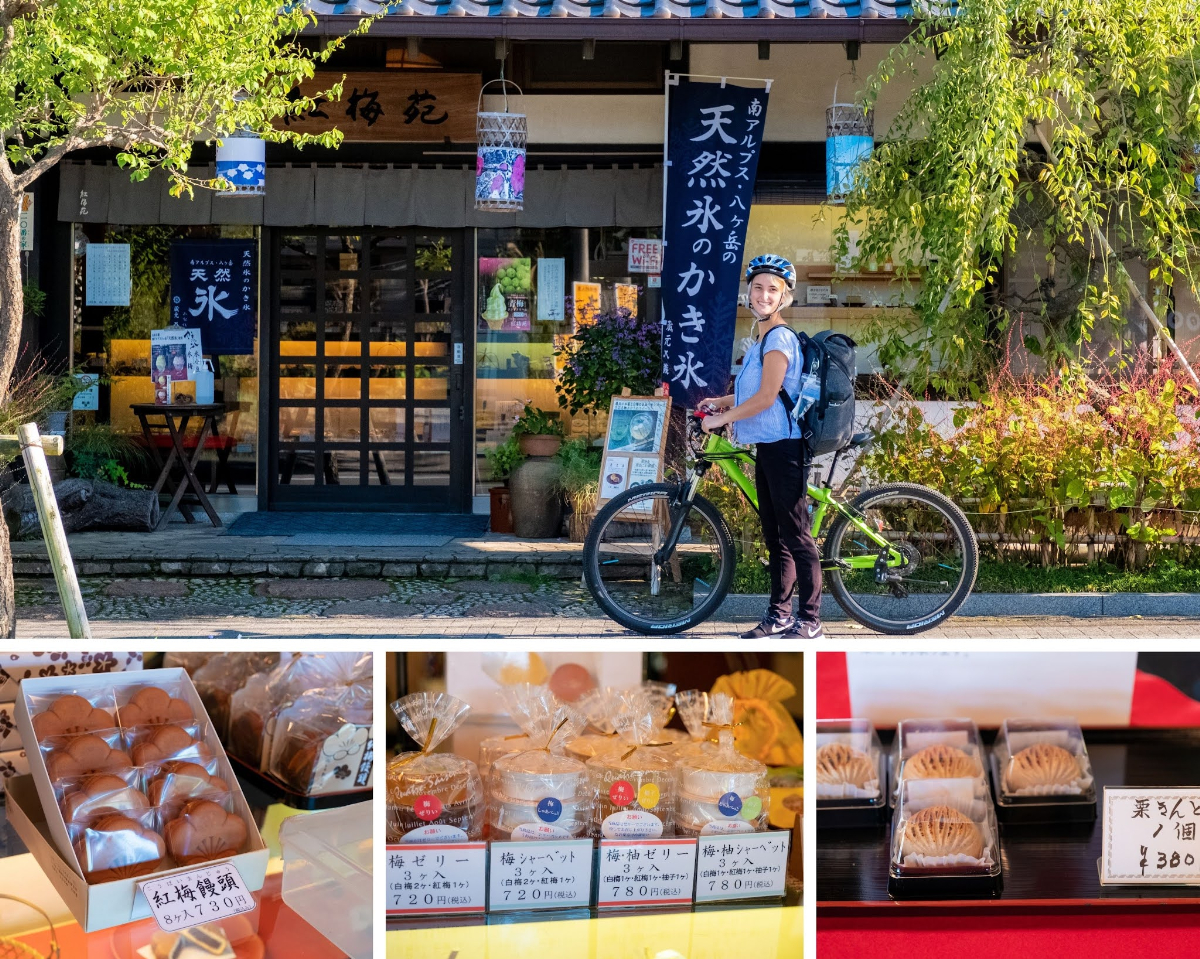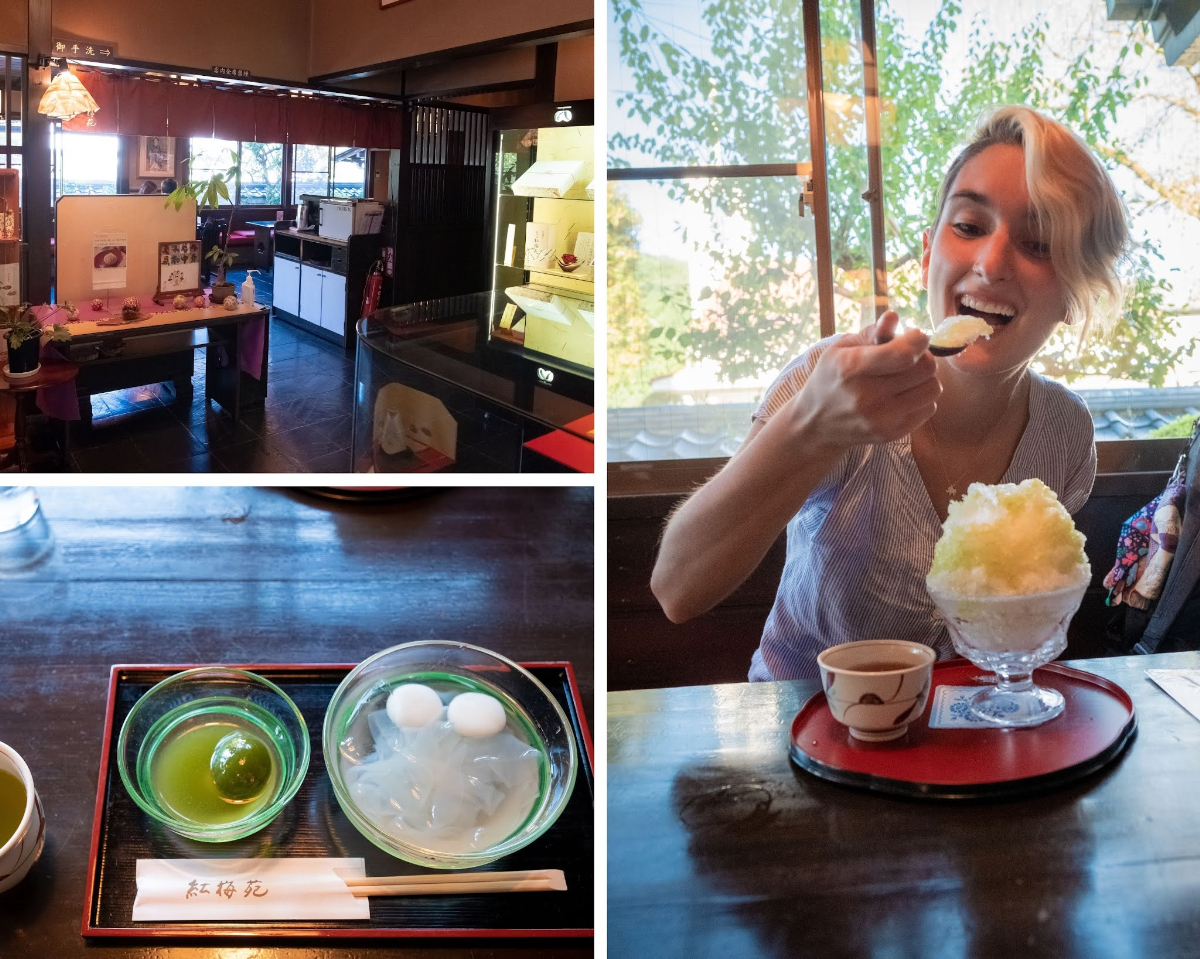 16:00 Japanese Sweets Shop Hamano (17km)
This is another Japanese sweets shop, "Hamano," not far from Hinatawada Station.
On this day, which was almost "Tsukimi" (lit. Moon watching. Japan Mid-Autumn Festival), there was a line of cute bunnies. (Japanese people see a rabbit in the moon rather than a face) It's a shame to eat them! Some items were already sold out.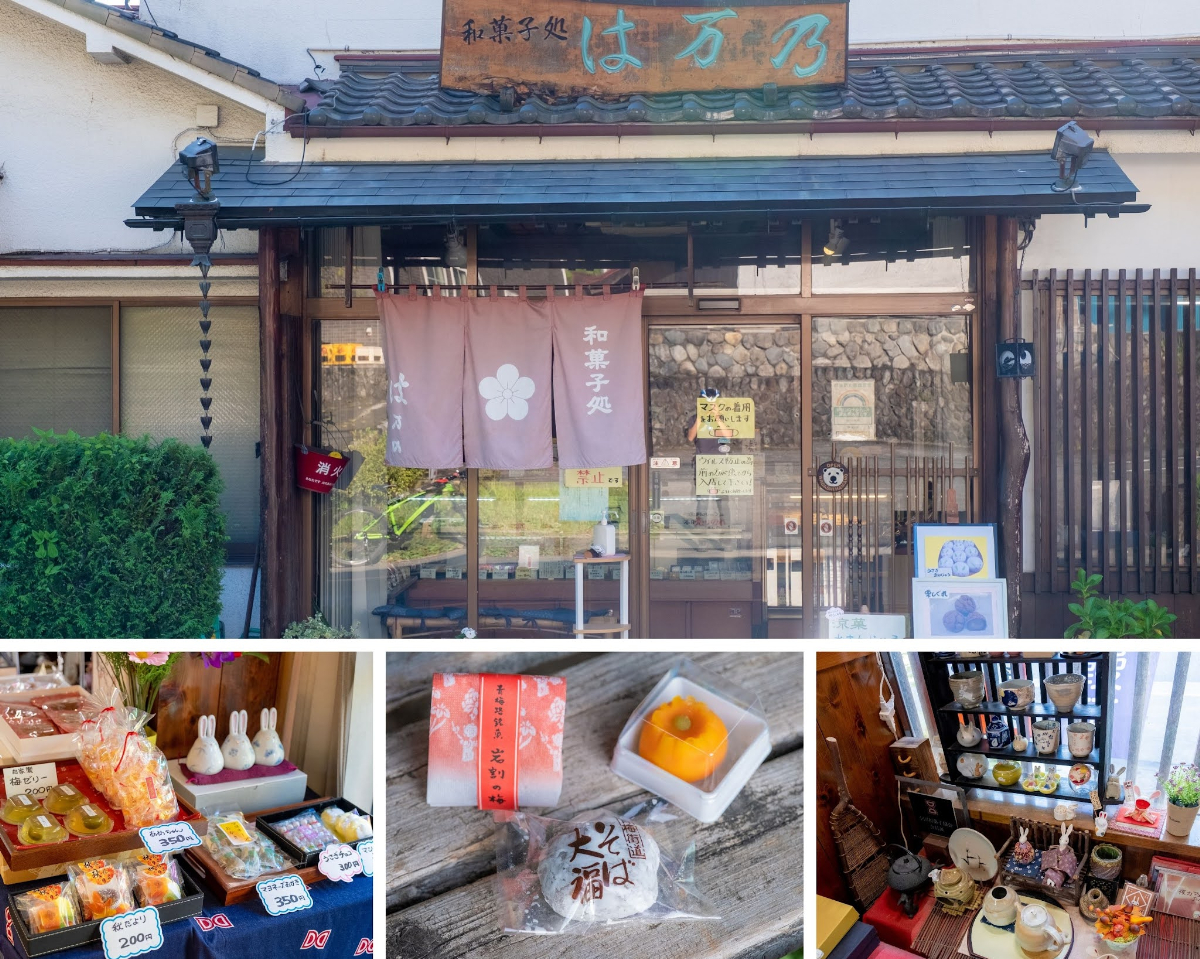 16:15 Tofu Studio Yuu (17km)
Tofu Studio Yuu is located on the way from Miyanohira Station to Ome Station. It is a tofu shop that is particular about using native Japanese soybeans. The staff, who grew up in Ome, say that the soft, unpressed tofu is the best!
The soy milk soft-serve ice cream is delicious, with a distinct soy milk flavor! I hear it's a regular snack for students at nearby Tama High School!
The okara (soy pulp) doughnuts were not too sweet. They were still fluffy even after a long time.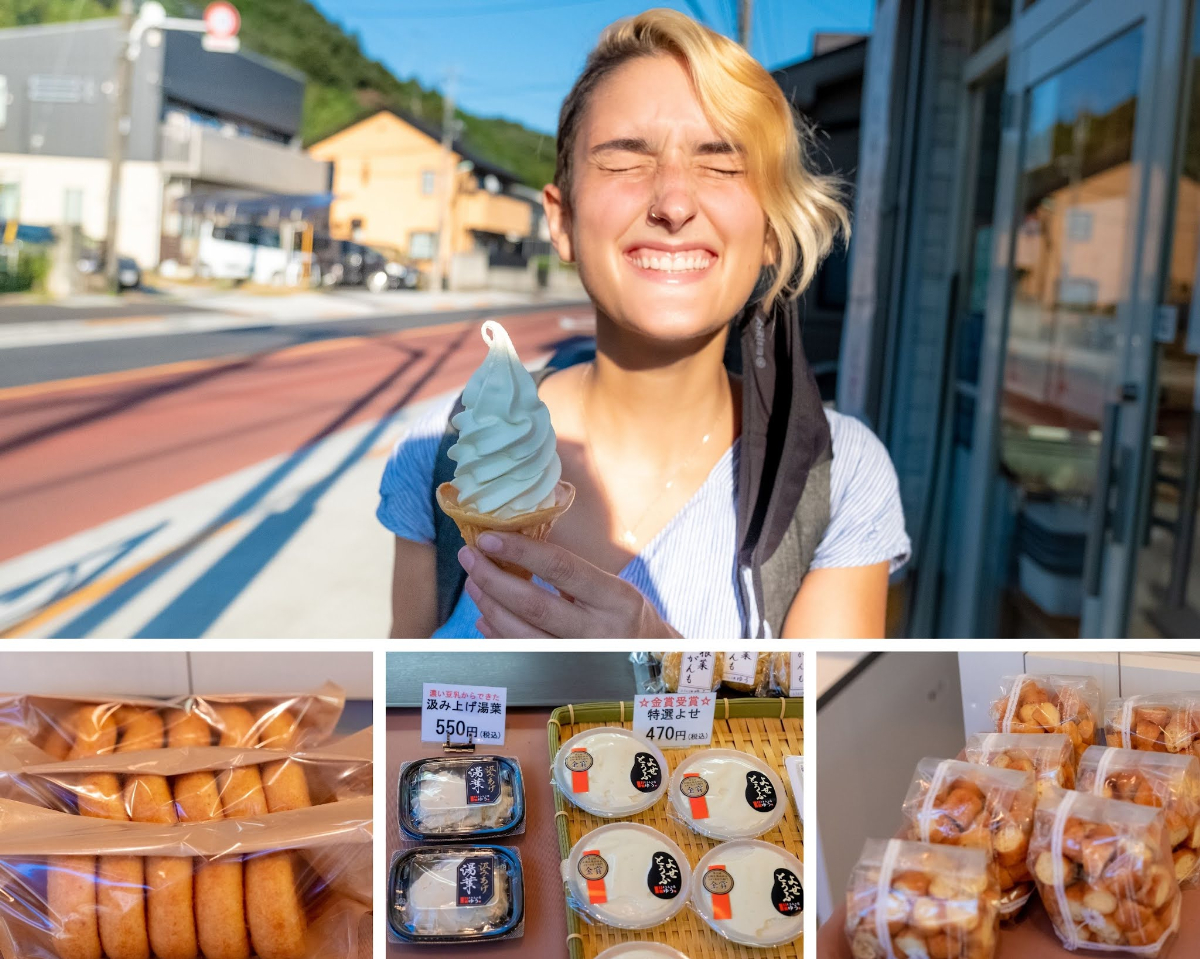 16:25 Retro town of Ome (20km)
We've finally arrived at Ome! We cycled through the back streets of the town.
There are many retro Showa-era signs and buildings here and there around Ome Station. I walked around the "Showa Cat Street Nyanamagari".
Lots of cat murals and figurines! Which is your favorite cat?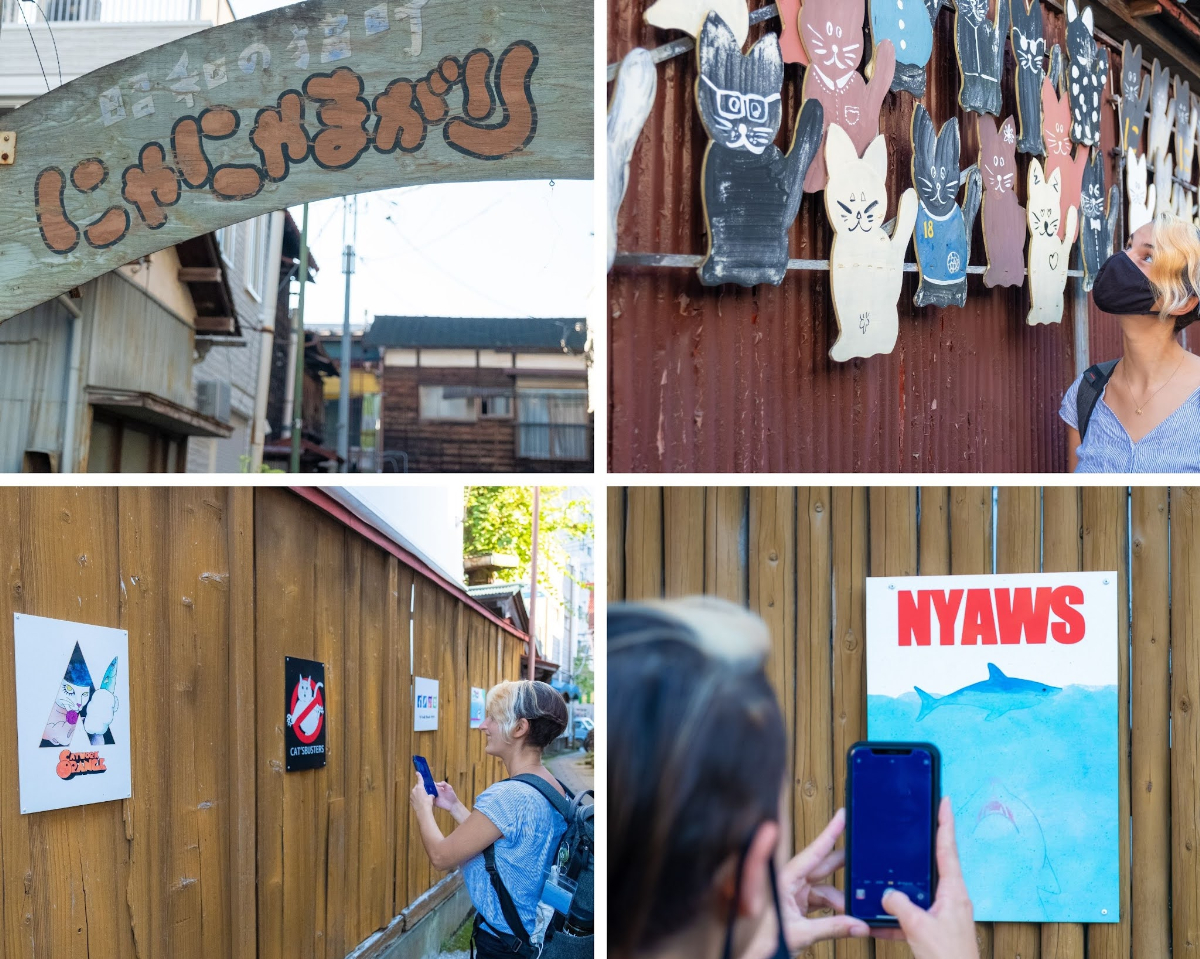 16:45 Door to Summer Cafe (20.5km)
We ended our tour at the nostalgic cafe "Door to Summer".
The interior of the café, bathed in the evening light, is a cozy space that makes you want to stay here forever.
I ordered a drink and cookie set (3 cookies). They also have a popular brown rice vegetable curry that is great for vegetarians.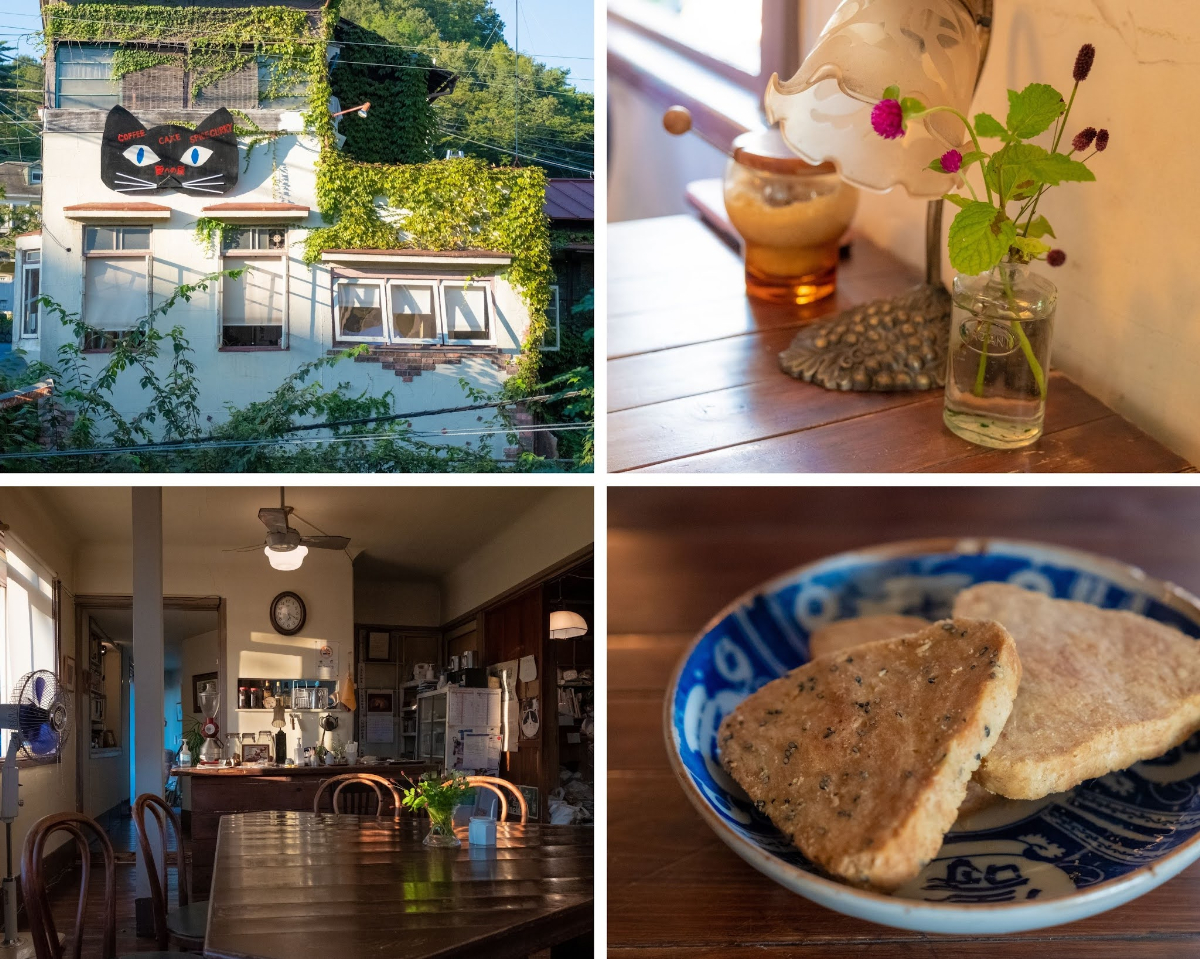 Finishing up
I ate a lot and cycled a lot, so no loss or gain of calories! LOL!
It was a very satisfying day for both my stomach and my leg muscles.
What we couldn't eat, we'll take back as souvenirs or snacks for tomorrow and beyond.
I look forward to eating them while remembering the scenery of cycling.
This time, I left my bike at "Aoyagi Bicycle Shop" near Ome Station. In addition to the here, you can also drop off your bike at Ozawa Sake Brewery and the Bicycle Shop Koki near Kabe Station! So, if you are coming from the city center by train, it's easy to get back home.
This time, I mainly visited stores selling Japanese sweets, but there are many other delicious stores that I would like to introduce to you. If you are cycling from Okutama to Ome area, please try to find your favorite store.
Here's a look at the bike I rode. This is a cute MTB called Merida Matz. It was introduced in our store last year, so it's still new. It is a very comfortable and easy to use MTB that is recommended for beginners and intermediate riders, as well as for women.
The ride from Trekkling in Okutama to the Ome area is mostly downhill, so you don't need an E-Bike to get there!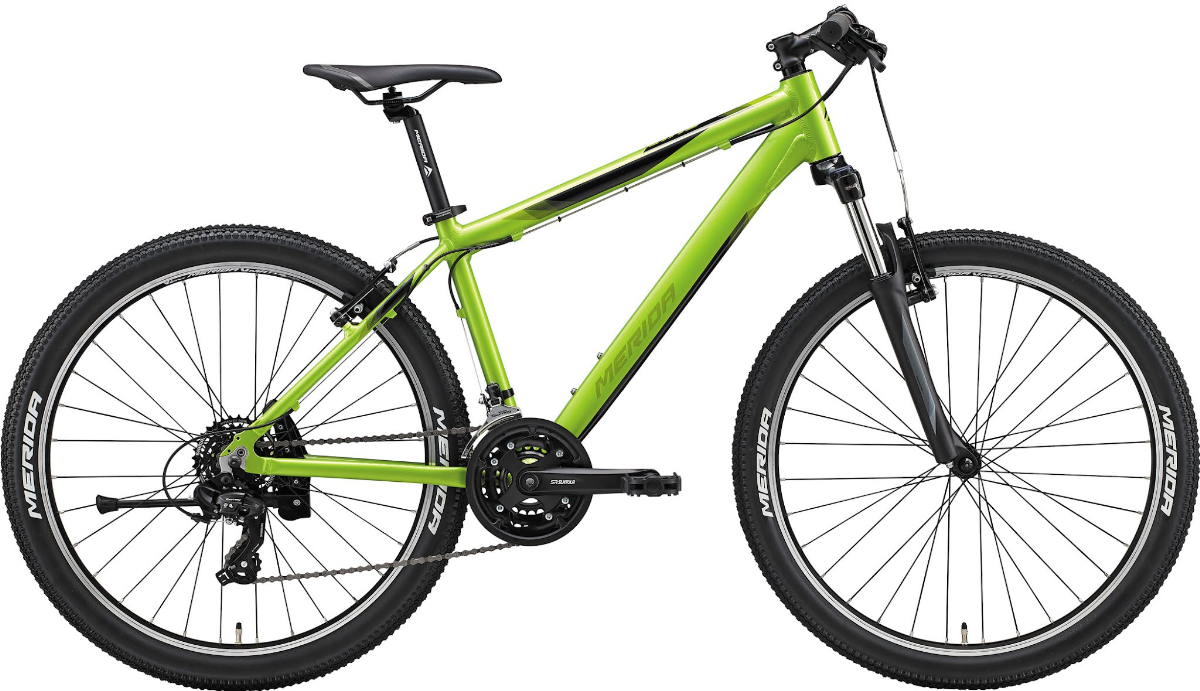 Thank you for reading to the end! See you later ^^